SERIAL BAD WEDDINGS 2
(Qu'est-ce qu'on a ENCORE fait au Bon Dieu?)
COMEDY
French release: February 2019
French language with American subtitles
Running Time: 1h38
Director Philippe de Chauveron
Cast Christian Clavier, Chantal Lauby, Ary Abittan
Producers Les Films du 24
International Sales Orange studio

SYNOPSIS
Claude and Marie Verneuil are facing a new crisis. Their four son-in-laws, Rachid, David, Chao and Charles, have decided to leave France with their wives and children to try their luck abroad. Claude and Marie will do anything to hold them back.
Claude et Marie Verneuil font face à une nouvelle crise. Leurs quatre gendres, Rachid, David, Chao et Charles sont décidés à quitter la France avec femmes et enfants pour tenter leur chance à l'étranger. Claude et Marie sont prêts à tout pour les retenir.
REVIEWS
Le Figaro
Ce second opus est encore meilleur que le premier sorti en 2014. Le scénario est particulièrement bien écrit. Les répliques fusent. Les rebondissements sont multiples.
Le Point
Christian Clavier et Chantal Lauby portent cette nouvelle comédie qui bouscule les conventions et file à toute vitesse. On rit beaucoup, sans arrière-pensées. Et Dieu que c'est bon !
Closer
Cette suite, dans laquelle on prend plaisir à retrouver les Verneuil et leur famille, pousse le curseur de l'humour communautaire encore un peu plus loin.
Sunday Nov. 3 @ 4:45pm
US PREMIERE
1ère comédie box-office 2019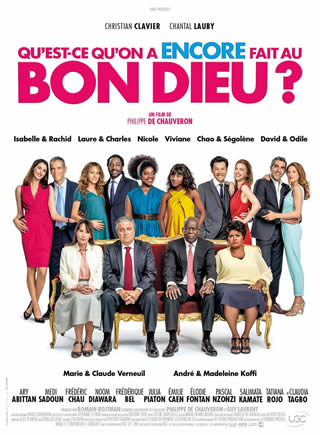 Sponsored by